Welcome!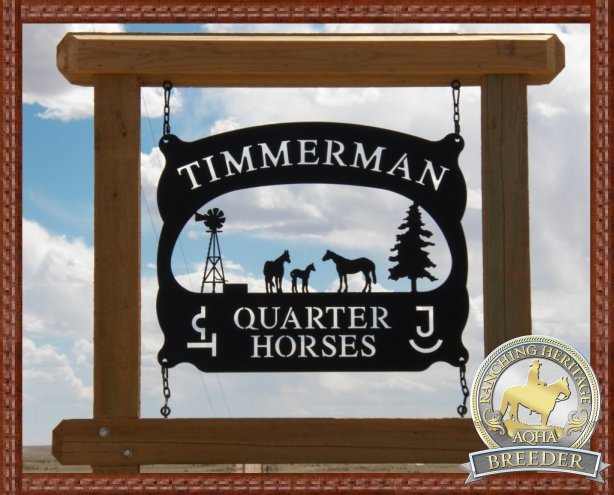 Welcome to Timmerman Quarter Horses!
We're excited and grateful to be recognized by the American Quarter Horse Association as a RANCHING HERITAGE BREEDER! (April 10, 2017) "It is my pleasure to inform you that the Ranching Committee and the AQHA Executive Committee have approved you as a Ranching Heritage Breeder." Between our two ranches, we have over 35 years experience breeding and raising quarter horses. Over the course of these 35 years, our goal has been to produce a dependable, all-around working 'partner'. We're continually working to improve, and concentrate on good dispositions, conformation, bone & foot, athletic ability and presence. Whether you're roping, cutting, reining, running barrels, out working cows or on the trail...we feel our horses have the versatility and the ability to excel.
Our stallions are primarily Blanton bred and our broodmares are a great combination of other proven bloodlines. Some of these include:
*Driftwood * Lucky Blanton * Three Bars * Blue Light Ike * Shining Spark * Frostys Tops * Dual Pep * Mr. Bar None * Playgun * Frosty Feature * Jackie Bee * Gold Fingers * Dee Red Money * Royals Diligents & more...
Located in the panhandle of Nebraska, Kimball is at the intersection of Interstate 80 & Highway 71. Kimball is an hour east of Cheyenne, Wyoming, on I-80 and a short 20 minute drive north of the Colorado border.
Please feel free to call or come by anytime. Thanks for visiting.